The project of the apartment in Moscow for a married couple in a modern style. This apartment is not intended for permanent residence. Therefore, we had more creative freedom at the design stage. The main goal of the project was to create a stylish modern interior that would include all the basic functions necessary to live comfortably.
Initially, the space had a free layout. The new layout has provided a spacious kitchen-dinner, a bedroom, two shower rooms and a dressing room. At the planning stage, we tried to avoid the classic "room-by-room" layout and create an interesting space. For this purpose, partitions of glass and metal in the loft style are used instead of some walls in the kitchen-dinner and bedroom. This partition separates the living room from the bedroom and the bedroom from the shower room, which creates the feeling of a single space.
At the owners' request, we have made the kitchen as compact as possible. A small black ready-made kitchen is complemented by the island-bar counter. In the living area, there is a large comfortable sofa where the owners can relax after a hard day's work. In the bedroom by the window, there is a full-fledged workplace. We have also found a place for an easel in the space - the hostess is fond of painting. And we've expanded one of the window sills, creating a place for reading there.
The special atmosphere of the project is created by dark, enveloping tones, the abundance of natural materials and complex color solutions - everything, as we love. Painting prevails in the walls finishing. Textured plaster is used on the party wall between the bedroom and the living room. Tiles of different sizes and textures is combined in the shower room, including custom-made cement tiles with a pattern.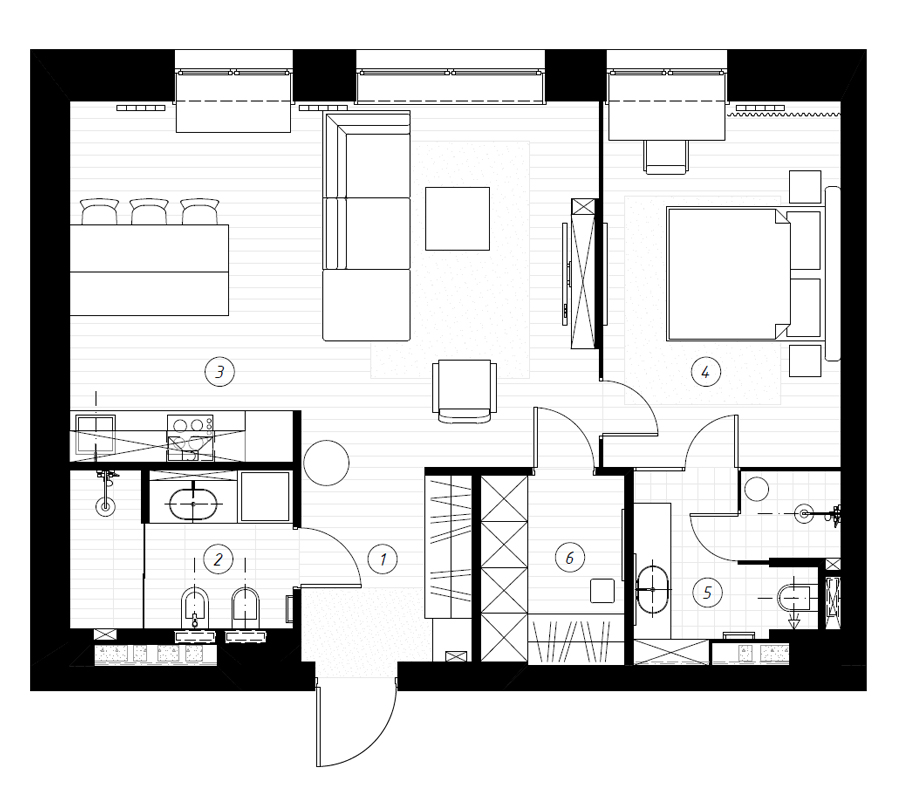 1. Hall 5,48 м²
2. Bathroom 5,64 м²
3. Living room 30,78 м²
4. Bedroom 13,95 м²
5. Bathroom 5,59 м²
6. Dressing room 4,42 м²
Total area: 65,86 м²