The project of a photo studio in a former sewing workshop. The main objective of the project was to preserve the loft atmosphere of the industrial premises, but at the same time make it bright and individual. To accomplish this task, classic elements of the loft style (metal partitions, brick walls, glass, wood) were used in unusual colors for this style.
Before replanning, the room was an elongated space 30 meters long with four separate exits. The premise was divided into three spacious halls and an entrance space with a reception area and a make-up room. Within the framework of the project, visualizations were prepared only for one hall in the loft style.
The reception area, the hall and the make-up room are separated by glass and metal partitions. On the brick walls of the reception area, there is a graphic pattern which combines complex shades of ocher, dark grey and brick. The opposite wall is covered with copper-colored metal sheets. In the hall, part of the walls is painted, on the rest of them, the brickwork is preserved.
On the floor, there is self-leveling floor and tiles, which are divided by the metal profile. The floor was technically challenging, because several materials had to be brought to one level. Diagonal brass lines break the clear rectangular geometry of the partition and the pattern on the walls, making the room more interesting.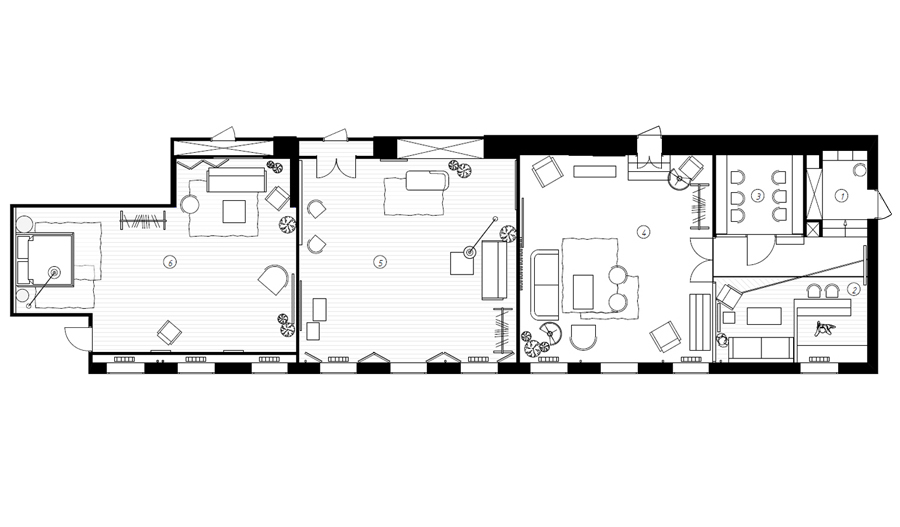 1. Entry 14,6 м²
2. Reception 16,2 м²
3. Dressing room 8,8 м²
4. Hall 1 (loft) 51 м²
5. Hall 2 (dark) 59,7 м²
6. Hall 3 (light) 55,4 м²
Total area 211 м²