The main objective of the project was to create the interior of a coffee shop with a reserved sales area. The coffee shop is focused on visitors of all ages, so the interior should be quite restrained, but at the same time memorable. For these purposes, the combination of the most concise finishing with bright, expressive details was used.
The premise of the coffee shop was originally a three-room apartment on the first floor. We completely changed the space layout. Functionally, the coffee shop was divided into two zones: a sales area right at the entrance and a coffee shop area with two halls. This layout allowed us to combine two lines of services. On the one hand, there is a small coffee shop with cozy halls, and on the other - a bakery, where you can buy pastry and coffee to go.
The most concise finishing is used in the interior. Painting, which is complemented by wallpaper with a pattern of tropical plants, prevails in the finishing of the walls. The floor is covered with handmade black and white cement tiles. Neutral monochrome colors are complemented by bright saturated colors - green walls in the sales area and complex purple color in the hall of the coffee shop.
Almost all the furniture is custom-made. The base of the bar counter, bar tables and cache pots behind the sofas are decorated with sheets of metal. There are round mirrors in a brass frame on the walls. Tall indoor plants in single-color pots are placed along the perimeter of the coffee shop hall. Over the bar table, there is a hanging basket with ivy and contour LED backlight.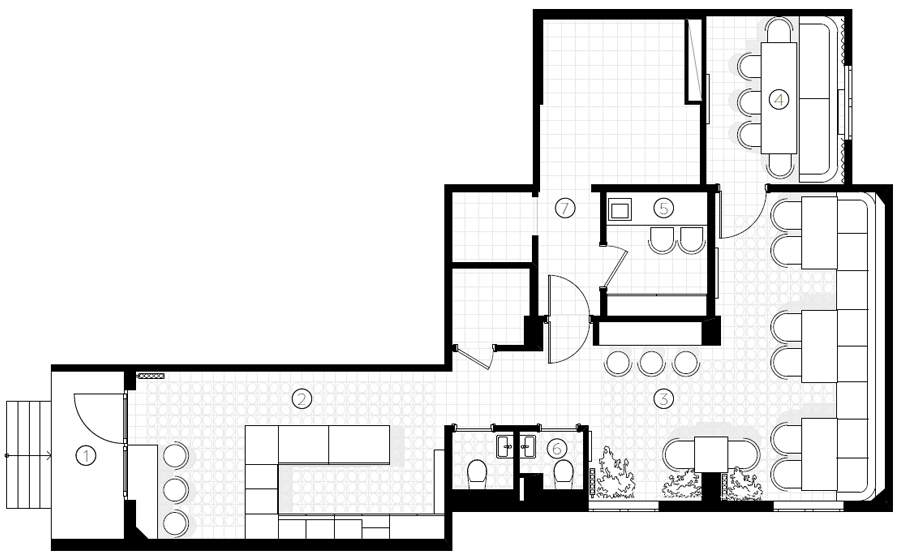 1. Entry 4 м²
2. Bar 17,5 м²
3. Diving 32,1 м²
4. Private dining 7,8 м²
5. Breakroom 4,1 м²
6. Restroom 2,4 м²
7. Kitchen 15,5 м²
Total area: 83,3 м²