The project of a beauty salon in the city center. The main objective of the projects was to create a stylish room, in which it would be comfortable for both women and men clients. It was necessary to divide the space into several zones, and place a small cafe in the waiting area.
There was no replanning as such. Only different zoning techniques are used. Open space is divided into several zones with help of partitions, color and light. A separate small room is devoted to the pedicure area. Right at the entrance, there is the area of the coffee bar, where you can drink coffee and relax in a comfortable chair waiting for your master.
The interior is based on loft ideas, but in an unusual interpretation. Brick, painted white, is used in the finishing, and there is painting on the walls and ceiling. Strips of wood for zoning, and porcelain tiles in imitation of wood on the floor. The reception desk is made of MDF, the tabletop - of artificial stone.
Several shades of green were used in combination with the white brick and dark grey ceiling, as well as the natural color of wood. Due to this, the room receives additional depth and a cozy, enveloping atmosphere.
Almost all the furniture and wood items are made to order in local workshops according to individual sketches. Mirrors in different frames are used as a decor in the cafe area. There are decorative plates on the brick walls of the main hall.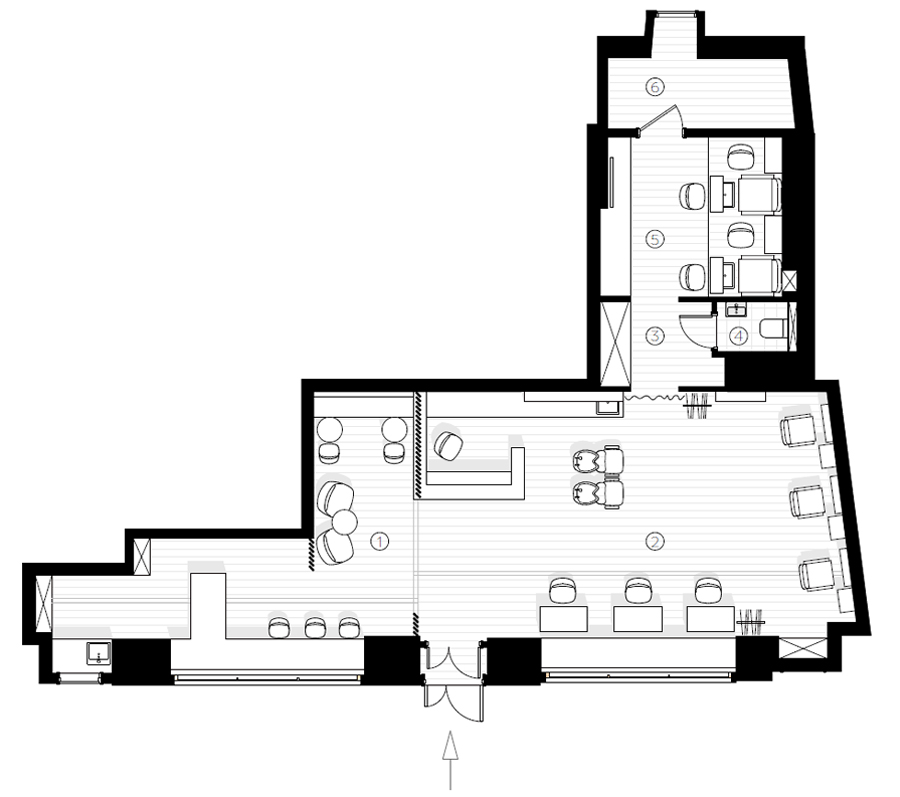 1. Cafe 24 м²
2. Styling station 45,5 м²
3. Hall 3,9 м²
4. Restroom 1,7 м²
5. Nail & pedicure room 12,2 м²
6. Breakroom 7,1 м²
Total area : 94,4 м²